These miniature moth sculptures began as an idea several years ago... a dream of creating tiny insect sculptures from natural materials collected on nature reserves, as a way to celebrate the importance of the moths, their food-plants and protected places.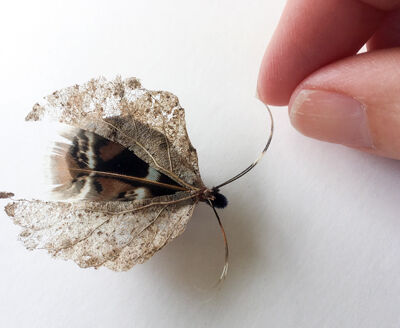 They were first shown as interventions in the Rothschild Bungalow at Woodwalton Fen National Nature Reserve in 2022, for the celebrations of the 70th anniversary of Britain's first National Nature Reserves. Woodwalton Fen is famed for its biodiversity, particularly its moths and butterflies.
Though I'd had the idea for the moths years ago, for a long (frustrating) time I couldn't work out how to make them! Nothing I tried gave me the precision or shapes I was looking for. Then I happened to see a display of antique hand-tied fishing flies, and realised that if I could learn how to tie a fly, I might be able to adapt the techniques to make moths! I bought a fly-tying vice and tools, and spent months learning, experimenting, adapting and ultimately building the skills I needed.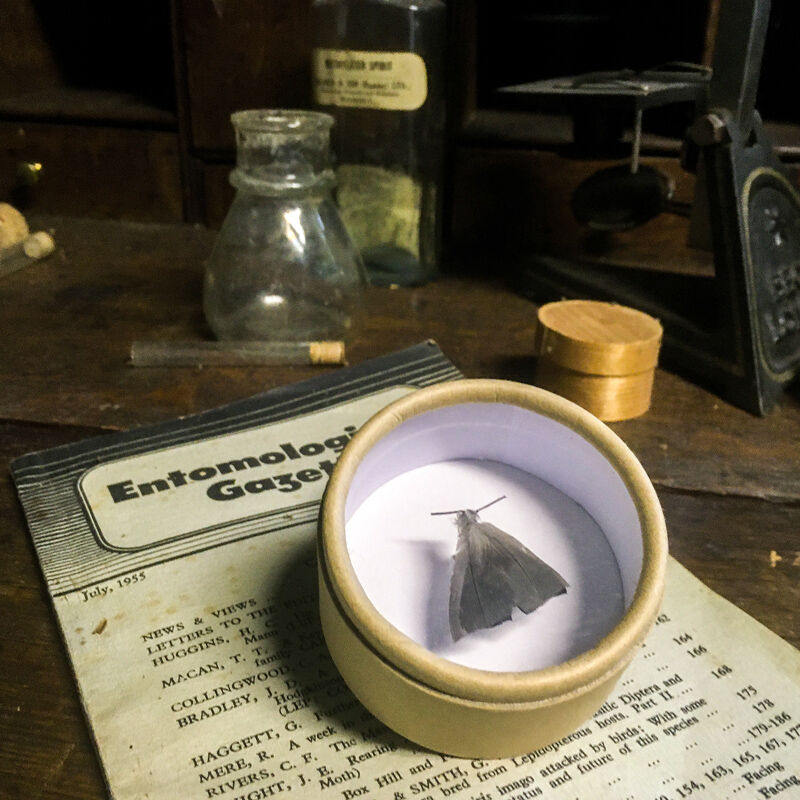 Some of my moths are displayed in entomology frames, handmade in the UK, held in place using entomology pins. But I didn't want them to look like dead, pinned specimens, but rather alive and protected if rather confined. So I created food-plants for these imaginary moths, using embroidery threads, paper and wire. Other moths are pinned in round entomology pots.
They are imaginary species because I wanted the leaves and feathers found on the nature reserves to guide the outcomes - rather than being force in to painting them to get the 'right' colour, or buying in feathers from abroad.
The moths sculptures were shown as interventions in the old Rothschild Bungalow in the middle of Woodwalton Fen National Nature Reserve, at a celebration of the 70th anniversary of the first British National Nature Reserves. It was the perfect location, as the bungalow was built in the early 1900s by entomologist and moth expert Charles Rothschild. Nowadays Natural England and the Wildlife Trust care for Woodwalton Fen, which is open to visitors year-round. The Rothschild Bungalow is open only on special occasions, so check the website before visiting.
With many thanks to Langdyke Countryside Trust and Woodwalton Fen for permission to collect and use natural materials needed to make these moths.